This year… really sucks. Movies continue to provide a means of escape through this incredibly shitty time. Even though the majority of the films I was most hyped for this year got delayed to next year, there were still some that I really enjoyed or really surprised me. This list is comprised of the ten films I enjoyed the most from this year
#10:
Sonic The Hedgehog
Release Date: February 14th
Director: Jeff Fowler
Writer: Patrick Casey, Josh Miller
Starring: James Marsden, Ben Schwartz, Jim Carrey
Why it's good: Okay fuck off. This movie isn't that bad guys. In terms of kids movies, this isn't anywhere near the level of Disney/Pixar movies or The Lego Movie, but it certainly is better than The Em*ji Mo*ie. In terms of video game movies, it's definitely high on the list, but it doesn't beat Detective Pikachu. The movie is harmless. Sonic was adorable at times, Jim Carry was perfect as Dr. Robotnik (he was clearly just having fun), there were come cool camera shots, the pacing was great, meme lords will enjoy a certain cameo, and I did find myself laughing sometimes. Kids will love this movie, hardcore fans of Sonic may think otherwise. I don't know. I'm not either of those. I don't care at all about Sonic and I will probably never see this again. I can't even imagine how this would have turned out if they kept the original design. We now live in a timeline with a live-action Sonic The Hedgehog movie that isn't bad. That mid-credits scene though.
Metascore: 47
Coffee Sip Score™: 6/10
Oscar Odds ¯_(ツ)_/¯: LOL No
Where to find: Amazon
#9
Hubie Halloween
Release Date: October 7th
Director: Steven Brill
Writer: Tim Herlihy, Adam Sandler
Starring: Adam Sandler, Kevin James, Julie Bowen
Plot: Despite his devotion to his hometown of Salem (and its Halloween celebration), Hubie Dubois is a figure of mockery for kids and adults alike. But this year, something is going bump in the night, and it's up to Hubie to save Halloween.
Why it's good: Man, I am not helping the integrity of my blog. First Sonic, now this. Pretty crazy how the Sandman went from a career best in Uncut Gems to… this. Despite all its flaws, Hubie Halloween is a pretty good time. The jokes are bad and repetitive, although I did laugh at some of them, the cast is stacked (Adam Sandler, Kevin James, Julie Bowen, Ray Liotta, Rob Schneider, June Squibb, Kenan Thompson, Steve Buscemi, Maya Rudolph, Tim Meadows, and more), the cinematography, the production design, and overall quality are actually pretty good. The only thing that is really bad, is the fact that Adam's promise to make a terrible movie on purpose is still on the way.
Metascore: 53
Coffee Sip Score™: 6/10
Oscar Odds ¯_(ツ)_/¯: LMAO That would be insulting
Where to find: Netflix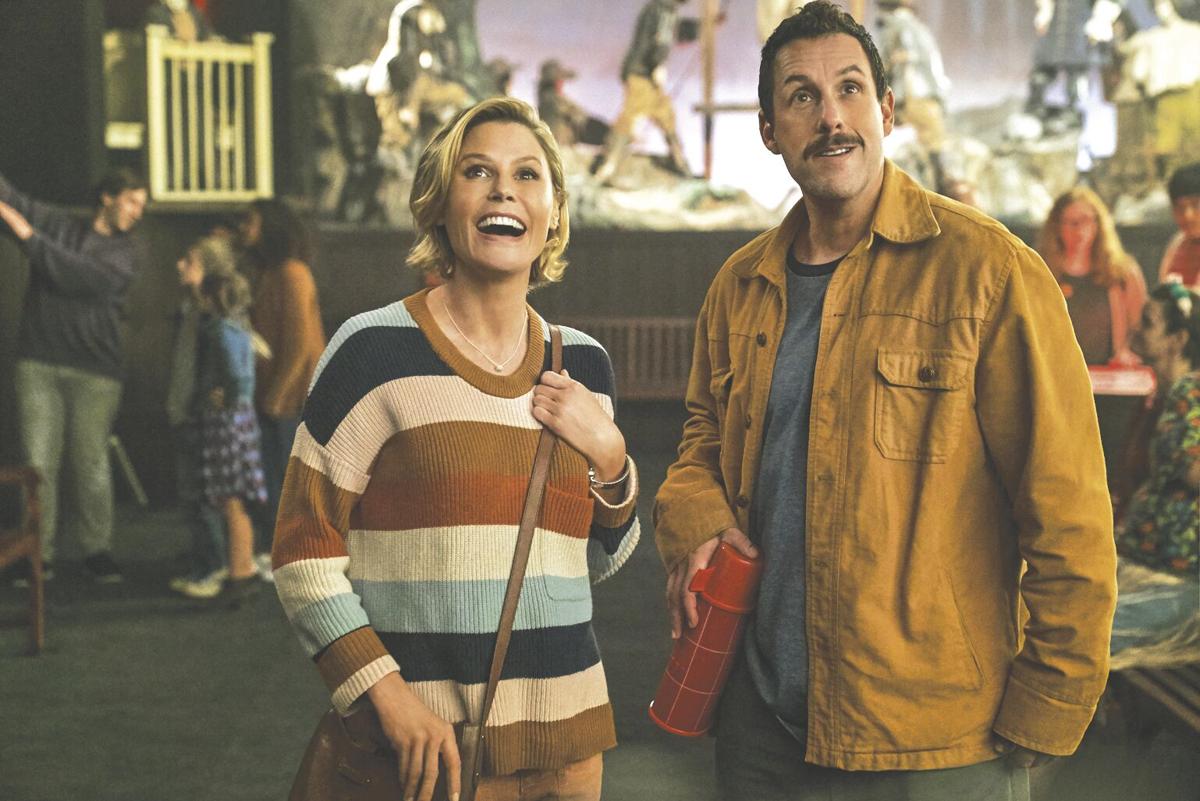 #8
The Invisible Man
Release Date: February 28th
Director: Leigh Whannell
Writers: Leigh Whannell
Starring: Elisabeth Moss, Aldis Hodge, Storm Reid
Plot: A woman makes a daring escape from her abusive boyfriend. When he turns up dead a few weeks later, weird shit begins to happen.
Why it's good: This movie surprised me. I thought it was just going to be another bad remake. But Horror God Leigh Whannell proved me very wrong. This movie is absolutely fantastic and is made with pristine filmmaking. The writing, cinematography, score, sound, directing, the tension building, and Elisabeth Moss's performance are all solid and mix together smoothly. There are some effective scares, but it's mainly the suspense that'll get to you.
Interesting Fact: The outside wall of the mental institution has a graffiti piece depicting Billy the Puppet, the doll the Jigsaw Killer uses in Saw (2004).
Metascore: 71
Coffee Sip Score™: 9/10
Oscar Odds ¯_(ツ)_/¯: Nah
Where to find: Amazon
#7
I'm thinking of ending things
Release Date: September 4th
Director: Charlie Kaufman
Writer: Charlie Kaufman
Starring: Jesse Plemons, Jessie Buckley
Plot: Full of misgivings, a young woman travels with her new boyfriend to his parents' secluded farm.
Why it's good: I'm Thinking of Ending Things is a powerful and incredibly sad film from Charlie Kaufman, a master of the craft. The film offers incredible performances, music, and writing. There is so much symbolism and metaphors and little things that happen that multiple viewings are a must. The film is funny, creepy, and weird and I adore they way the story is told. It is something I can kind of relate to or feel compassion or empathy towards the characters.
Metascore: 78
Coffee Sip Score™: 9/10
Oscar Odds ¯_(ツ)_/¯: Hoping for screenplay win and maybe a director nom
Where to find: Netflix
#6
Palm Springs
Release Date: July 10th
Director: Max Barbakow
Writer: Andy Siara
Starring: Andy Samberg, Cristin Milioti, J.K. Simmons
Plot: When carefree Nyles and reluctant maid of honor Sarah have a chance encounter at a Palm Springs wedding, things get complicated as they are unable to escape the venue, themselves, or each other.
Why it's good: I'm a huge Andy Samberg fan. It's concept you will find very familiar and the more you think about it the more asinine it gets, but regardless, it's fun, hilarious, well performed, well shot, and overall a fantastic time.
Metascore: 83
Coffee Sip Score™: 8/10
Oscar Odds ¯_(ツ)_/¯: I doubt it
Where to find: Hulu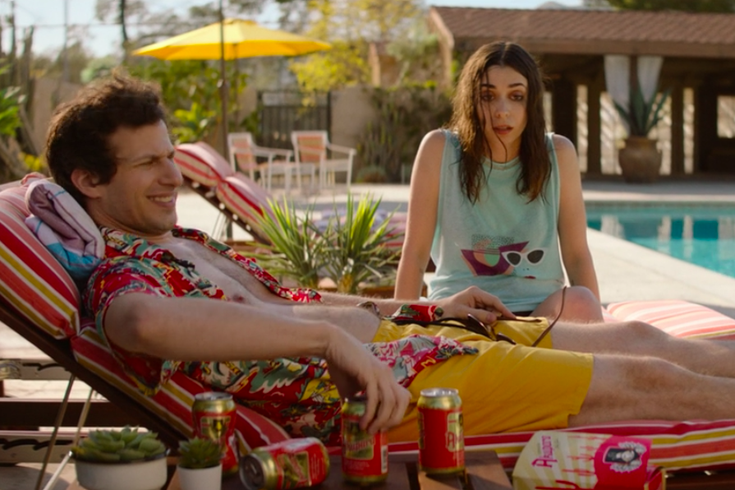 #5
Bad Education
Release Date: April 25th
Director: Cory Finley
Writer: Mike Makowsky
Starring: Hugh Jackman, Ray Romano, Welker White
Plot: The beloved superintendent of New York's Roslyn school district and his staff, friends and relatives become the prime suspects in the unfolding of the single largest public school embezzlement scandal in American history.
Why it's good: Incredible performances from Hugh Jackman and Allison Janney and pristine writing that makes the whole film fly by. Bad Education does a phenomenal job at portraying events that I was completely unaware of. I was hooked the whole time.
Metascore: 79
Coffee Sip Score™: 8/10
Oscar Odds ¯_(ツ)_/¯: Adapted Screenplay? Maybe?
Where to find: HBO
#4
The Vast of Night
Release Date: May 29th
Director: Andrew Patterson
Writers: Andrew Patterson (as James Montague), Craig W. Sanger
Starring: Sierra McCormick, Jake Horowitz
Plot: In the twilight of the 1950s, on one fateful night in New Mexico, a young switchboard operator and a charismatic radio DJ discover a strange audio frequency that could change their small town and the future forever.
Why it's good: An extremely small budget film that easily puts Andrew Patterson on my radar. A simple story, solid performances, incredible production design and cinematography, and extremely thrilling. I was seriously at the edge of my seat. And holy shit watching this on a late weekend night would amplify the aesthetic ten-fold.
Coffee Sip Score™: 9/10
Oscar Odds ¯_(ツ)_/¯: I highly doubt it, but I would like to see Directing, Sound, Production Design, Cinematography maybe?
Where to find: Prime
#3
Wolfwalkers
Release Date: November 13th
Director: Tomm Moore, Ross Stewart
Writer: Will Collins
Staring: Honor Kneafsey, Eva Whittaker, Sean Bean
Plot: A young apprentice hunter and her father journey to Ireland to help wipe out the last wolf pack. But everything changes when she befriends a free-spirited girl from a mysterious tribe rumored to transform into wolves by night.
Why it's good: I loved the art style, the colors are vibrant, the writing is incredible, the voice acting is amazing, the score is great, and the themes are powerful. This is an amazing and emotion story that all ages can enjoy. Watch in 4K if you can.
Metascore: 87
Coffee Sip Score™: 9/10
Oscar Odds ¯_(ツ)_/¯: It could get a nom for Best Animated, but we all know what that's going to this year. And maybe screenplay? One can hope.
#2
VHYes
Release Date: January 12th
Director: Jack Henry Robbins
Writers: Nunzio Randazzo, Jack Henry Robbins
Plot: This bizarre retro comedy, shot entirely on VHS and Beta, follows 12-year-old Ralph as he accidentally records home videos and his favorite late night shows over his parents' wedding tape.
Why it's good: It reminds me of some dumb commercials and skits you would see on Adult Swim. The writing is incredible, the commercials/skits are hilarious, and the overall story is thought provoking and may hit a little too close to home for some. I can't wait to see it again and look for extra things in the background I missed.
Coffee Sip Score™: 9/10
Oscar Odds ¯_(ツ)_/¯: LOL No
Where to find: Hulu
#1
Bad Boys For Life
Release Date: January 17th
Director: Adil El Arbi, Bilall Fallah
Writer: Chris Bremner, Peter Craig, Joe Carnahan
Starring: Will Smith, Martin Lawrence
Plot: Mike Lowrey and Marcus Burnett are back together for one "last" ride.
Why it's good: One of my most-hyped-for movies of 2020 didn't disappoint. We get more of the Bad Boys action and comedy we've come to love… and it's without Michael Bay. Will Smith and Martin Lawrence are still perfect together, the comedy still hits, there's a hilarious cameo, the action scenes are great, the writing is great, a few surprises, some pretty good cinematography, and an awesome shot of Martin holding a fucking Gatling Gun. Buddy-cop movies can still be fun in 2020.
A Great Line: "We're not just black, we're cops too! We'll pull ourselves over later!"
Interesting Fact: Both directors make cameos: Bilall Fallah is the guy trying to seduce Paola Nuñez in the club. Adil El Arbi gets pulled out of the Jeep by Will Smith while getting out of the club.
Best Moment: There's a scene where a bunch of people, including Will Smith, chant Marcus.
Metascore: 59
Coffee Sip Score™: 8/10
Oscar Odds ¯_(ツ)_/¯: LOL no
Where to find: Amazon